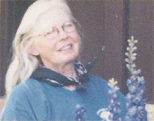 Raised on the vast North Dakota prairie, Georgia's paintings are inspired by her fascination with mountains and horizons, land and seascapes, and scenes from her travels.
For eighteen years she cruised on a motorcycle to the end of many roads, from British Columbia to Nova Scotia, Florida, and the deserts of the Southwest. She traveled extensively from Alaska to Mexico and to the Panama border in Central America. During her adventures, Georgia studied stained glass, watercolor, photography and bead work, which she sold internationally.
Since moving to Pocatello, Idaho in 1996, Georgia's award-winning paintings are exhibited in solo, local and national shows. Her artistry as a Master Gardener and landscape designer has won many awards for Juniper Hills Country Club and private gardens.
Georgia exhibits annually for the Pocatello Art Walk running from spring through the fall of every year at Old Town Pocatello. She is available by appointment. Phone 208 + 232-3174
Previous Shows
Ancient Mayan Mysteries (with Anne Merkley) at ISU's Eli Oboler Library
1st Friday Art Walk, Old Town Pocatello
Mexico Of The Ancients (with Anne Merkeley) 1st Friday Art Walk
March 8, 2008 Idaho State Journal article